Aslan1990
27.07.2019, 22:29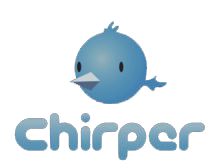 WILLKOMMEN BEI CHIRPER!
Verbinde Dich mit Deinen Freunden – und anderen faszinierenden Leuten. Erhalte sofortige Updates zu Dingen, die Dich interessieren. Sieh dabei zu, wie sich Ereignisse entwickeln, in Echtzeit und aus jedem Blickwinkel.
WAS IST CHIRPER ÜBERHAUPT?
Chirper ist ein Informationsnetzwerk, das aus 140 Zeichen langen Nachrichten aufgebaut ist, den so genannten "Chirps". Mit diesem Netzwerk kannst Du schnell und einfach aktuelle Nachrichten zu Themen erhalten, die Dich interessieren.
INWIEFERN IST DAS NÜTZLICH?
Einige der Informationen auf Chirper können für Dich sehr wertvoll sein. Nachrichten von Nutzern, denen Du folgst, werden auf Deiner Startseite angezeigt, wo Du sie dann auch lesen kannst. Das ist gerade so wie eine Zeitung, in der Dich alle Überschriften interessieren – Du bekommst Neuigkeiten dann, wenn sie geschehen, und erfährst mehr über Themen, die Dir wichtig sind – und das alles in Echtzeit.
---
Posten eines Chirps über das Internet:
1. Melde Dich bei Deinem Chirper Account an.
2. Gib Deinen Chirp in das Feld oben in der Timeline auf Deiner Startseite ein, oder klicke auf den Chirper Button in der oberen Navigationsleiste.
3. Achte darauf, dass Deine Aktualisierung
maximal 140 Zeichen lang
ist. Die Zeichen werden automatisch gezählt! Die Anzahl der verbleibenden Zeichen wird unter dem Feld angezeigt.
4. Klicke auf den Chirp Button, um den Chirp in Deinem Profil zu posten.
5. Du kannst Deinen Chirp sofort in der Timeline auf Deiner Startseite sehen.
©PresidenteHH
---
Voice Tube of Youtopia
@hueytlatoaniofficial
---
Herzlichsten Glückwunsch an Kurosh Rostam Hakhāmanish zur erfolgreichen Wiederwahl! Gute politische Arbeit wird belohnt! Gerne darf der neue Premier Pargolias unseren huey tlatoani zum Antritt besuchen.
Congratulations to Kurosh Rostam Hakhāmanish for a successful re-election! Good political work is rewarded! The new Prime Minister Pargolias is welcome to visit our huey tlatoani.