You are invited to our partner
Virtonomics, an economical simulation game
where you can earn real money.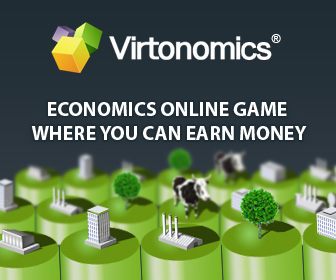 Quote:
Full Description
Lately business simulators have been becoming increasingly popular. They are used during the learning process in business schools and economic universities and for training employees in large companies, people who plan to open their own business use them too.
Perhaps, today Virtonomics is the most unusual business simulator. Unlike most analogues, Virtonomics is a large-scale game. It offers a huge world, thousands of eager competitors, hundreds of trade, industrial and other kinds of niches where you can start building your own international corporation.
For those who are curious enough Virtonomics reveals many subtleties of management. Of course, this is only a game and it does not completely reflect what happens in the real world, still even economy experts will find that Virtonomics is an inexhaustible source of useful observations and a perfect place to try different business strategies. In Virtonomics, business is done virtually, but people and the way they behave are real.
At the beginning of the game you will get a gift - a small company - from your beloved uncle. The company includes a little factory, a laboratory and several shops. What to do next is up to you! You can engage in manufacturing, trading and mine minerals, conduct research, speculate on the commodity market or develop agriculture.
Success depends on correct strategies and on the ability to optimally configure your trade, production and other departments (number of employees, salaries, trade area, etc.), and most importantly on the ability to communicate with business partners in the game. Virtonomics is translated to English, Chinese, French and Spanish. It is integrated with all popular social networks, and today unites players from more than 40 countries. Your partners or possibly competitors might be real businessmen. There were cases when the whole departments of large companies played Virtonomics, achievement of certain results in the game was considered in the process of searching for new employees, and long-term acquaintance in the game became one of the decisive factors when choosing a real business partner.
In addition, Virtonomics is an excellent platform for product placement, because practically every real product or brand can be organically incorporated into the gameplay without the audience being annoyed.
Today there are more than 700 thousand registered users in
Virtonomics
.