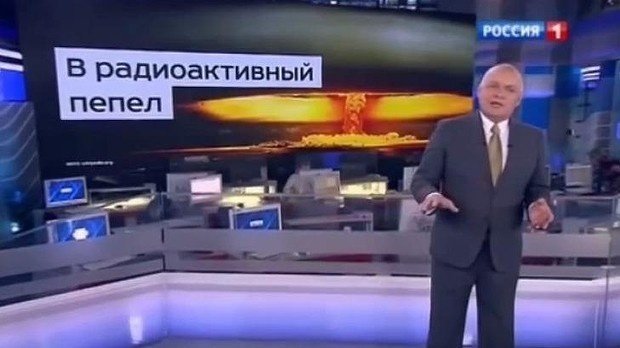 (Dmitry Kiselyov - Rossiya 1 Anchor)
Russia debuts state of the art nuclear weapons
"Russia capable of rendering enemies into radioactive ash." - D. Kiselyov
Rossiya One Studio, Moscow
A Kremlin-backed journalist issued a stark warning to the FsSH about Moscow's nuclear capabilities on Sunday as Voskania threatened a military blockade over Russia and the HTO's decision to issue collective diplomatic sanctions against the hostile alliance.
"Russia and the HTO is the only country in the world that is realistically capable of turning the FsSH into radioactive ash,"
television presenter Dmitry Kiselyov said on his weekly current affairs show.
Behind him was a backdrop of a mushroom cloud following a nuclear blast.
Kiselyov was named by President Vladimir Putin in December as the head of a new state news agency whose task will be to protect Russia's international image and stoke patriotism at home.
His remarks took a propaganda war over events in Eurasia to a new level as tensions rise in the East-West standoff over Pannistan, a far eastern region which is has earned the ire of Moscow as the region and its allies build up military forces along Russia's long and frosty eastern borders.
Russian television showed images of ethnic Russians dancing and praising the countries modernized nuclear capacities. Of course Moscow has vowed to never use its weapons as a first response to aggressors but merely as an option to respond to a breach of the territorial integrity of itself or its many allies.
Pannistan and the FsSH blame the escalations on Moscow claiming Putin's HTO guarantee to protect non-aligned nations as illegitimate. However Moscow sees states territorial integrity as a critical part of international stability. The President has often responded to criticism by positing how nations can confidently develop themselves if international law will not protect them from their neighbors. The HTO has also warned of additional sanctions and military posturing against the much smaller and economically fumbling states of the FsSH.
The announcement of Russia's advanced systems comes before the HTO's Mediterranean Fleet prepares to meet the HTO's Atlantic Fleet for an international freedom of navigation exercise across the world's major oceans. FsSH has threatened to attempt to block the Strait of Gibraltar however the advanced alliance fleet is equipped with the most advanced arms to defeat any threat it encounters.
*these views are not the point of view or opinion of the government of russia or the HTO*